24 x Masape Artisan Jams 290g Combined to Choose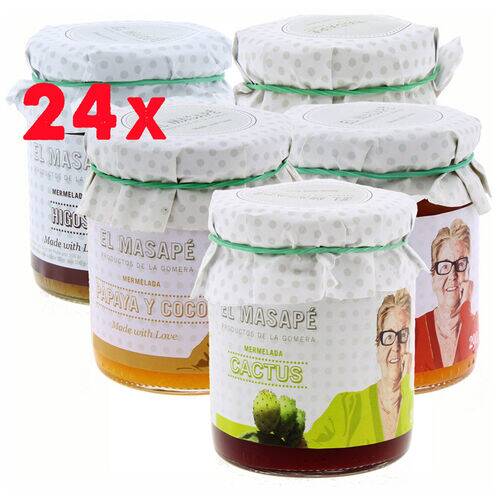 Click on the image to open the gallery;



Brand:

Masape

Reference:

8264911247091718

Availability:

In Stock






24 x Masape Natural Jams from Canary Islands 290 g.
Flavors to choose combinated:
Papaya Coconut

Papaya Orange

Cactus Tuno

Figs

Mango Lemon

Peppers
Our jams are made entirely handmade, with a careful selection of fruit from the Canary Islands. They have a high content of fruit, in a proportion of more than 200g of fruit per jar. thus being extra marmalades.

Being jams made in a totally artisanal way, without preservatives, with a careful selection of Canary Fresh Fruit.

Net weight: 290g x 24 units
EL MASAPE in Vallehermoso, on the island of La Gomera, we have dedicated more than 30 years to elaborate artisan products of confectionery and food of the Canary Islands under the tutelage of Doña Aniceta, who has been able to transmit with mastery for generations, the traditional gastronomic culture Gomera.
We have proposed that our products, made with love, are small ambassadors of the insular gastronomic culture. For exquisite palates we manufacture typical gomero handmade products. We take care of every detail, we produce and elaborate with the best raw materials of the Canary Islands because every bite of our pasta, mojos, honey, almogrote or marmalade, must be an extraordinary experience.
Related Products