Canarian Red Mojo Oro Atlantico Dehydrated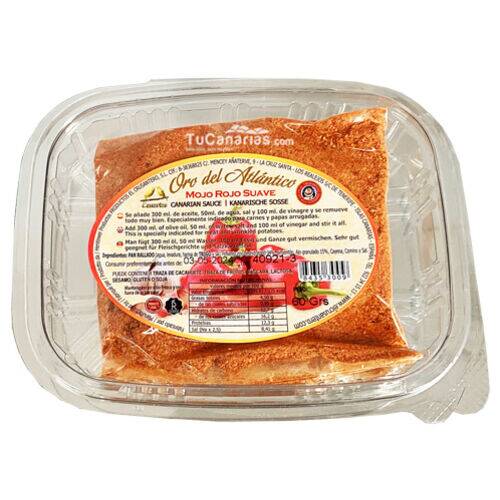 Click on the image to open the gallery;
Canarian Mild Red Mojo Dehydrated
Special preparation to make a rich Red Mojo de Canarias to accompany meat, potatoes, cheeses, ribs, gofio, ....
Add water, salt, oil and a little vinegar in the following proportions:
To make a cup of Red Mojo mix:
1 heaping tablespoon dehydrated Red Mojo
100 ml of pure Olive Oil
40 ml of wine vinegar
25 ml of water.
And ready, to enjoy a delicious Red Mojo Oro del Atlantico
The Crusantero - Gold of the Atlantic:
Since 1988, our artisanal factory has been producing Gourmet Canarian gastronomic products with traditional recipes inherited by generations of our family and with fresh ingredients from the Canary Islands. Daily with care we produce our exquisite Canarian Mojos, Almogrote Gomeran, Fig Bread, Condiments, Kneaded Gofio, Caramelized, ... 100% artisan products without preservatives or dyes, handcrafted to achieve the highest quality and freshness, faithful to tradition and the quality of our Canarian gastronomy.
Related Products