Ello Ermol Cream 250g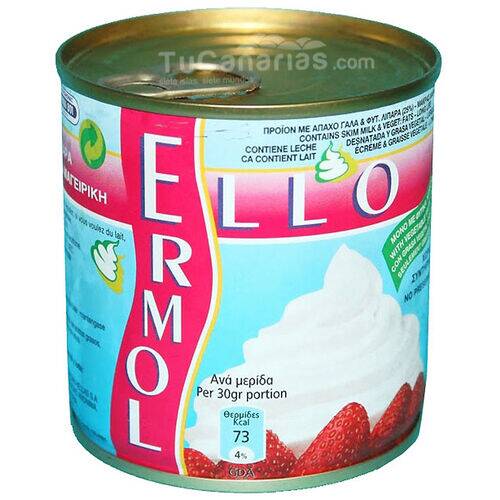 Click on the image to open the gallery;



Reference:

1939522250550210

Availability:

In Stock






Whipping cream Ello-Ermol 250g.
Net Content: 250g
The Ello Ermol cream is the riding cream of excellence in the Canary Islands, it is a vegetable cream, its texture is extra soft and with a slight touch of vanilla. It mounts very easy and fast, and does not come down. Full-bodied and with a very special flavor, which does not resemble animal-based creams, Ello Ermol cream is softer and different, especially in texture, and is the delight of the Canary Islands prostes.
To assemble the Ello Ermol cream it is recommended that it be very cold, keep in the fridge for at least 3 hours before using it. If we are going to use it as cream for any dessert, it is only necessary to add icing sugar to taste, or we can also add other ingredients to give it more flavor such as vanilla essence, cocoa powder, melted chocolate, strawberry jam, dulce de leche,. ..
Ingredients: Skimmed Milk (70%), Vegetable Fat (Seed Oil) (25%), Emulsifiers (Mono-di- and polyglycerides of fatty acids, Monostearates and Palmitado of Sorbitan, Soy Lecithin): 2.5% Flavor IT -ERMOL. Contains MILK and SOY.
Conservation conditions: Keep in a cool and dry place.
How to use: Prepare in the mixer (6-7 minutes), or by hand (until its volume increases). Before whisking, stay in the refrigerator for about 3 hours.
Related Products