Gold Rum Guajiro Miniature - Free Customized
Click on the image to open the gallery;



Brand:

Ron Guajiro

Reference:

329292318270317

Availability:

In Stock






Type: Rum Gold
Brand: Guajiro
Producer: Cocal Destileries
Bottle volume: 50 ml.
%: 37,5%
Miniature in Glass bottle 50 ml. of GUAJIRO GOLD RUM, with FREE CUSTOMIZATION.

Special format for WEDDINGS, CHRISTENINGS, CELEBRATIONS, ANNIVERSARIES AND CONGRESSES with your CELEBRATION DATA/DESIGN PRINTED ON EACH BOTTLE.
---
FREE PERSONALIZATION of ALL BOTTLES with the CELEBRATION DATA with the TEXT or DESIGNS provided by the customer.

Personalization process: Make your Miniature Purchase and during the purchase process, you will see the "comments" field, enter inside the data you want to appear on the bottles.
Service available for orders of 25 or more models of the same or different models.
---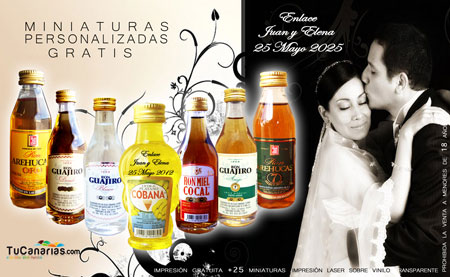 Elaboration: We present this young rum, made with cane spirits, most of them young and with olds of giving personality to this rum canary gold, with bright golden old man in the range of ochres. Clean and honest, with high intensity, notes cane, citrus, silky, wide touch, traverse half, with notes of vanilla, mellow and persistent; leaving good memories. Ideal for taking it alone or in combination.
Cocal distilleries: Distilleries Cocal is the reference point in the manufacturing rum in the Canary Islands. Strongly implanted in the islands since 1948, maintains the tradition of producing the genuine rum canary; selecting the cane liquor and watching all the details of the maturation process of their old male who according to Canary Islands tradition, are combined with a choice of honey bees to achieve a drink exotic and unique, and our honey rum Cocal or Guajiro.

Currently has a production capacity of its own: with a wine cellar with a capacity of 80,000 liters in American oak barrels for the maceration and aged, with a modern bottling line that produces automatic 8500 bottles per hour, and to obtain High quality, the section of preparations you have all the tanks and pipes connected constructed of stainless steel.
Related Products