Ropa Vieja - Canarian Recipes
Ropa Vieja Recipes
The best recipes from the Canary Islands at www.TuCanarias.com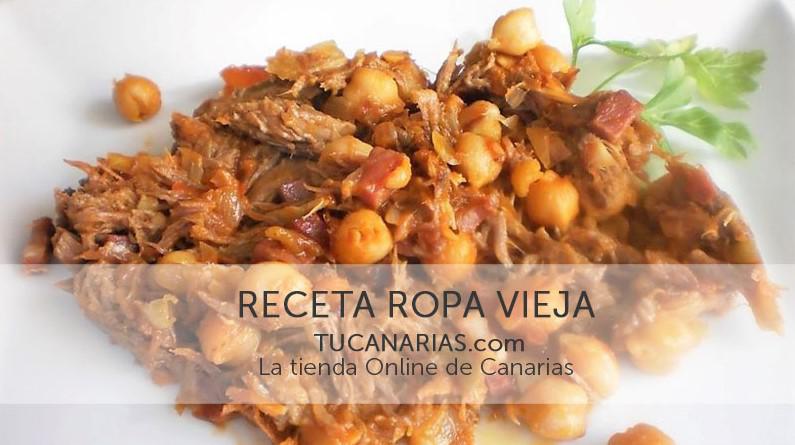 Historia
The origin of Ropa Vieja is from the Canary Islands, Spain. Later, Canarian emigrants were responsible for taking this tasty and peculiar dish to Caribbean countries such as Cuba, Panama, Puerto Rico and the Dominican Republic where it has become popular.
Initially the dish was made with the leftovers of the Canarian stews and other dishes, but it took great entity and became a dish with great tradition in the cuisine of the Islands where today it is the protagonist of the gastronomic offer of the Islands, especially in the guachiches.
Ingredients
Chickpeas 500 g.
Beef 500 g.
Meat Chicken 500 g.
Potatoes 1 kg.
Garlic 3 cloves
Bell pepper 1
Onion 1
Tomato 1
White wine 200 ml
Paprika
Pepper
Thyme
Laurel
Cloves
Salt
Oil
Elaboration
Soak the chickpeas the night before to soften them.

The next day, wash them and put them in a pot with the meat, salt and water.

Once cooked, drain everything and shred the meat.

Then fry the meat and the chickpeas until crispy, and set aside.

Make a separate frying with the oil, the onion, the bell pepper, the peeled tomato and the garlic, all previously chopped, and add the pepper and the cloves.

Once the frying is done, add the paprika, the wine, the thyme, the bay leaf and a cup of the meat stew broth.

Then add the meat and the chickpeas and leave on the heat for a few minutes.

Finally, fry the diced potatoes and mix everything together.
This dish can also be served with vegetables such as carrots or green beans. Chickpeas and leftover meat from the stew are usually used to prepare this dish.
#meat