24 bottles Cobana Canarian Banana Liqueur 1 Liter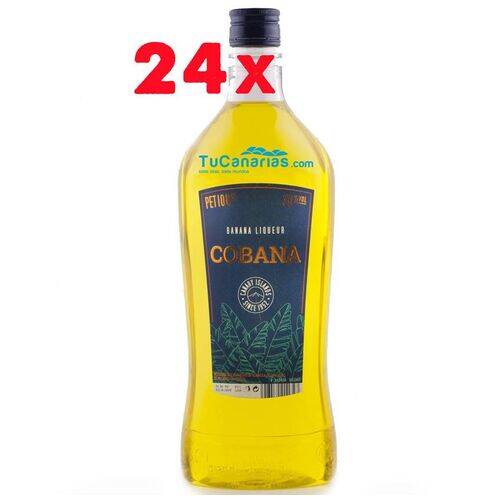 Click on the image to open the gallery;



Brand:

Licor Cobana

Reference:

896116247560209

Availability:

In Stock






Cobana Canarian Banana Liqueur 1 Liter
Brand: Cobana
Producer: Cocal Destileries
Variety: Canary Islands Banana
Bottle volume: 1000 cc.
Alcohol: 30%
Botlle: Pet
Elaboration and taste:
This delicious Canary banana liqueur, is prepared to preserve the traditional methods of the old generations of the Canary Islands, which are macerated fruit to get mistelles. Its yellow, and green notes with heavy gilt edging, make it attractive and appealing to the eye. A high intensity, clean, with aromas of ripe bananas. Attack sweet in the mouth with a short tour and a pleasant aftertaste and intense. We recommend taking it very cold.
Cocal distilleries:

The pride of people for whom rum itself is a pride. Cobana is the most traditional brand of one of the longest-established distilleries in the Canary Islands, Destilerías San Bartolomé de Tejina. This is a family-owned company incorporated in 1948 which has developed until becoming a major reference in the liquor-making industry in the Canary Islands. Ron Guajiro is the Genuine Rum from the Canaries. The perfect blend of tradition, avour and quality. This full range of rums stands out for the clear personality of all its products: the golden rum Ron Guajiro Dorado, the white rum Ron Guajiro Blanco, the vintage rum Ron Guajiro Añejo and the honey rum Ron Miel Guajiro.

Currently has a production capacity of its own: with a wine cellar with a capacity of 80,000 liters in American oak barrels for the maceration and aged, with a modern bottling line that produces automatic 8500 bottles per hour, and to obtain High quality, the section of preparations you have all the tanks and pipes connected constructed of stainless steel.
TuCanarias is the Worldwide Official Exclusive Dealer of Cocal in Internet who produce GUAJIRO, AGUERE, COCAL, COBANA, UCANCA & LAS COLMENAS brands
Related Products