Rum Aborigen Aldea Coffee Grog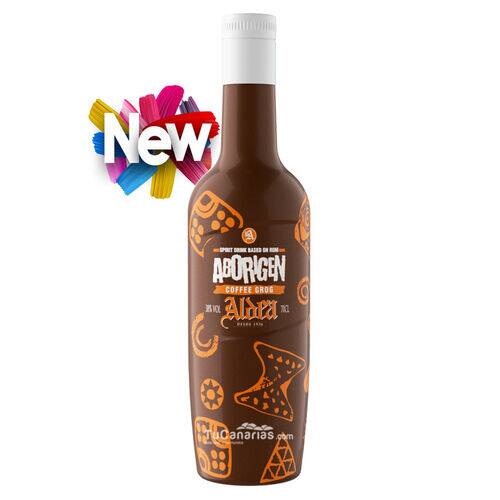 Click on the image to open the gallery;



Brand:

Ron Aldea

Reference:

693007010140219

Availability:

In Stock






Rum Aborigen Aldea Coffee Grog
Brand: Ron Aldea
Producer: Destilerías Ron Aldea
Variety: Coffee Rum
Bottle volume: 0,7 L.
Graduation: 38%
Botle: Cristal
Elaboration:
Spirit drink based on aged rums, sugar cane, citrus fruits, spices and coffee, with a friendly and comforting character. With subtle notes of fresh coffee beans on a background of orange peel and fresh spices, with a cinnamon finish.
After the conquest of the Canary Islands, extensive cultivation of citrus fruits, coffee, sugar cane and various types of spices, including cinnamon, were developed.
In 1740, the English admiral Edward Vernon, nicknamed Old Grog, ordered his troops to mix rum with water and add citrus and sugar. Thus, he managed to impose an energy drink on the entire English navy that kept the morale of the troops high by avoiding drunkenness, avoiding dehydration due to lack of drinking water on long voyages and preventing scurvy in the crew due to lack of vitamin C.
Based on this historic drink, we've crafted this unique elixir that takes its cue from an ancient island custom of burning grog. A few coffee beans and a cinnamon stick were added to this particular Quemadillo de Ron, the purpose of which was to keep awake and warm the individual who, during the night, watched from his guard post to warn of the attacks of corsairs and pirates that they approached the coast.
This is how Aldea Aborigine Coffee Grog was born, a spirit drink based on aged rums, sugar cane, citrus fruits, spices and coffee that keeps you alert to the latest trends so you don't miss anything.
RON ALDEA y ABORIGEN
Since 1936, in the Canary Islands, Ron Aldea has been produced by hand with sugar cane grown on its own plantations on La Palma island, currently being the distillery dedicated to the traditional production of authentic Canary rum with eight hectares of sugar cane organically produced.
Ron Aldea, after 4 generations of master rum makers, makes agricultural and exclusive rums, produced with its own cane juice that is distilled depending on the final product, using direct fire for special editions, or biological energy for the rest of Aldea rums and Aborigen liquors, highlighting its honey rum, caramel rum, banana liqueur, as well as an exclusive cocktails colección.
Perfect agricultural rum, of extreme quality and personality that is produced in an artisanal way with sugar cane juice from La Palma, an unparalleled island where nature, tradition and crafts come together in harmony to combine the aroma of native sugar cane. freshly cut, the purity of the spring water and the breeze of the Atlantic Ocean.
Ron Aldea, a unique experience, 100% from Canary Islands, totally handmade.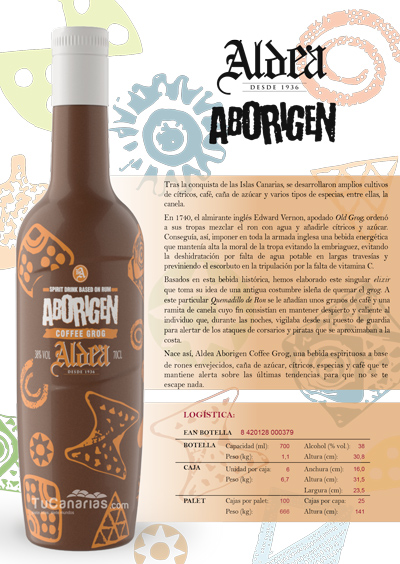 The sale of alcohol to minors under the age of 18 is prohibited. Responsible consumption is recommended.
Related Products