Altos Trevejos Volcanic White Wine Albillo Verdello 2020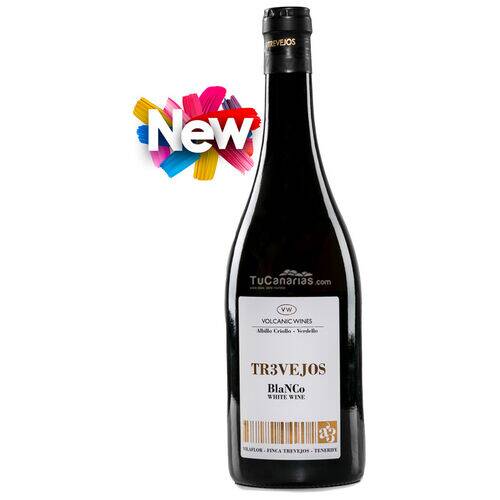 Click on the image to open the gallery;
Altos Trevejos Volcanic White Wine Albillo Verdello 2020
Type of wine Dry white
Available in 750ml
Grape varieties Albillo Criollo and Verdello
Fermentation Stainless steel tank
Aging 4 months French oak barrels
Alcohol content 13% vol.
Soil type Volcanic
Altitude 1,240m
North orientation
Rainfall 200 l/m2
ALTOS DE TREVEJOS: · Volcanic Wines · Centenary Vines · Singular Varietals · 1300 m above sea level ·
Altos de Tr3vejos, extraordinary Volcanic Wines with varietals from centuries-old Teide vines
Soil: Volcanic rock, with two different horizons:
● The first and most superficial, characterized by a clay-loam soil of approximately 1 to 1.5 m. deep.
● And a second horizon of volcanic rock appears where the first one sits.
Elaboration: White wine made with the Albillo and Verdello varieties. Manual harvest selected from the bunches at the optimum moment of maturation. After destemming, grain by grain is selected, and a cold maceration begins to extract all its aromatic potential. It is then lightly pressed to obtain the flower must, which ferments in tanks at a low temperature. Subsequently, barrel aging is carried out to gain aromatic complexity.
Tasting note:
View: Pale yellow color with golden reflections.
Nose: Great aromatic complexity where the aromas of fruit (passion fruit, lychee, mango, peach, etc.) and white flowers (jasmine, orange blossom, etc.) combine with the subtle notes of aging.
Mouth: Intense, oily, unctuous and well balanced, well marked acidity that makes it fresh and lengthens the aftertaste in which the notes of aging are subtly expressed.
ALTOS DE TREVEJOS
Extraordinary Volcanic wines with autochthonous varietals from centuries-old strains of the Canary Islands.
Altos de Tr3vejos, one of the highest vineyards in Spain and with the most sunshine in the world, at the foot of Mount Teide, where 23 hectares of centuries-old and young vines extend along the southern slopes of the volcano in the Llanos de Trevejos, at 1,300 meters above sea level.
The icy cold of the night tans and contrasts with the intense sun of the day to slowly ripen its grapes and naturally enhance the aromas and fruit flavors of the Malvasia aromatic, Albillo Criollo and Muscat of Alexandria varieties. Listán Blanco and Verdello, in addition to Baboso Negro, Vijariego Negro, Syrah and Listán Prieto, which give the Altos de Trevejos winery that special flavor.
For decades, the wine was made in the Canarian mansion from 1790 classified as an Asset of Cultural Interest that the Alfonso family owns in the municipality of San Miguel Abona, and whose main patio presides over a huge winery from the early 19th century.

The sale of alcohol to minors under the age of 18 is prohibited. Responsible consumption is recommended.
Related Products