Wheat Diet Gofio El Palmar 500g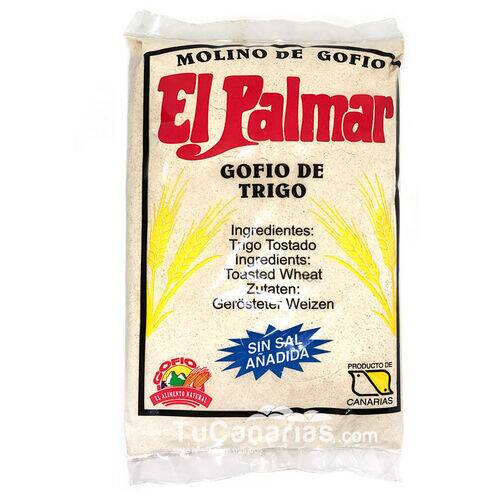 Click on the image to open the gallery;
DIET WHEAT GOFIO WITHOT SALT
ROASTED WHEAT
Due to excess fat in our diet, this product is ideal for people who need a balanced diet and healthy. Since we have carefully selected grain cleaning the same and the degree of roasting, preparing this gofio easily digestible, with no added salt. So as this is of superior quality, is recommended for all general, but especially for people exposed to low salt diet for hypertension, heart disease, etc ... and could incorporate into your diet gofio.
Composite integral million to 100% on your point of toasts with the appropriate degree of milling. Like wheat gofio, remains unchanged protein substances, vitamins and minerals through the careful process of roasting.
We qualify that provides the antioxidant beta-carotene, highly recommended for cancer prevention, it also provides vitamins B1, B3, B9, acting at the nervous system.
Approx Net Weight: 500 gr.
The culinary options of the Canarian Gofio are innumerable, in addition to the unrepeatable Gofio with milk for family breakfast or as a snack for the little ones, there are countless dishes served in the Canarian confectionery with Gofio such as Gofio Mousse, Gofio Nougat, Bananas with Gofio, is also frequently added to first courses such as stews and soups, the kneaded gofio or the rich escaldón.

Gofio Wheat EL PALMAR 75 years making artisan Canarian Gofio:
In Buenavista del Norte in Tenerife, the old Gofio el Palmar mill has been located for more than 75 years, from where we continue to produce uninterruptedly, with the same ancestral mill, just as it was 75 years ago. the authentic Canarian gofio, in an artisanal way, with the same dedication and affection as our ancestors did, hence its excellent flavor and healthy properties are a benchmark for Gofio de Canarias and the culture of the islands, Gofio El Palmar a super food 100% natural delicious and without preservatives.
Related Products