Honey Rum Guajiro Vintage Premium + Case



Brand:

Ron Guajiro

Reference:

1648152034080517

Availability:

In Stock






Guajiro Honey Rum Vintage Premium + Case
Type: Premium Honey Rum
Brand: Guajiro
Producer: San Bartolome de Tejina
Bottle volume: 70 cl.
Alcohol %: 37,5%
Glass Bottle
RONMIEL GUAJIRO VINTAGE
It is the only honey rum made from a careful selection of aged rums that matures in our winery for the time necessary to offer a unique and singular product in its category. Its attractive coppery sheen adorns a beautiful amber cape. The intense and complex aroma evolves from the balsamic and floral of the honey, to the spicy and toasted typical of its aging. Its passage through the mouth is rich and full of nuances, where the memories of cane brandy and honey mix with the aged notes, leaving a pleasant bitter finish that balances its sweetness. Drink alone, with ice or to make exclusive cocktails.
Every drop of Guajiro Rum is made with care, using natural ingredients and a unique production process in order to reach exceptional standards and to guarantee that each of our rums has an extraordinary and versatile flavour. Our rums - awarded in the most important international spirits competitions - will awaken your senses and take you to another level of quality in the world of rum.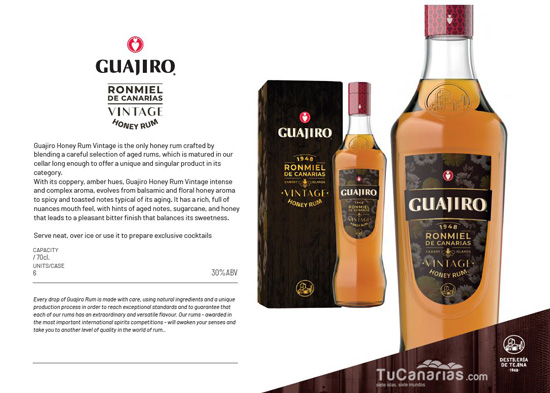 San Bartolome de Tejina distilleries:

The pride of people for whom rum itself is a pride. Ron Guajiro is the most traditional brand of one of the longest-established distilleries in the Canary Islands, Destilerías San Bartolomé de Tejina. This is a family-owned company incorporated in 1948 which has developed until becoming a major reference in the liquor-making industry in the Canary Islands. Ron Guajiro is the Genuine Rum from the Canaries. The perfect blend of tradition, avour and quality. This full range of rums stands out for the clear personality of all its products: the golden rum Ron Guajiro Dorado, the white rum Ron Guajiro Blanco, the vintage rum Ron Guajiro Añejo and the honey rum Ron Miel Guajiro.

Currently has a production capacity of its own: with a wine cellar with a capacity of 80,000 liters in American oak barrels for the maceration and aged, with a modern bottling line that produces automatic 8500 bottles per hour, and to obtain High quality, the section of preparations you have all the tanks and pipes connected constructed of stainless steel.
TuCanarias is the Worldwide Official Exclusive Dealer of Cocal in Internet who produce GUAJIRO, AGUERE, COCAL, COBANA, UCANCA & LAS COLMENAS brands
The sale of alcohol to minors under the age of 18 is prohibited. Responsible consumption is recommended.
Related Products