Honey Rum Aguere Vintage Premium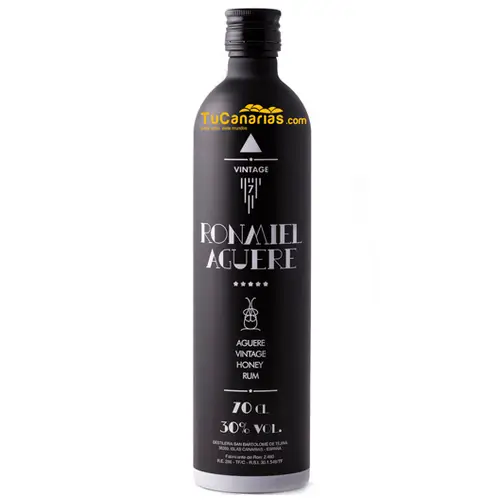 Click on the image to open the gallery;



Brand:

Ron Aguere

Reference:

7417591713401112

Availability:

Sold out







---

Type: Honey Rum Vintage
Brand: Aguere
Producer: Cocal Destileries
Variety: Honey Rum Vintage
Bottle volume: 70 cl.

%: 30 %

Present a Honey Rum Vintage PREMIUM very special.

Various suger cane juices, slowly matured for over 14 years, are blended together to obtain an excellent spirit and the necessary base to produce a Vintage Honey Rum. The excellence is achieved by adding pure base honey to leave the good, broad and balanced aftertaste of a good vintage rum. Its aroma reminds of flowers, citrus and sipces. We recommend taking it very cold, alone, with stones of ice or combined with citrus.

San Bartolome de Tejina distilleries:

Distilleries Cocal is the reference point in the manufacturing rum in the Canary Islands. Strongly implanted in the islands since 1948, maintains the tradition of producing the genuine rum canary; selecting the cane liquor and watching all the details of the maturation process of their old male who according to Canary Islands tradition, are combined with a choice of honey bees to achieve a drink exotic and unique, and our honey rum Cocal or Guajiro.

TuCanarias is the Worldwide Official Exclusive Dealer of Cocal in Internet who produce GUAJIRO, AGUERE, COCAL, COBANA, UCANCA & LAS COLMENAS brands
Type: Honey Rum Vintage
Brand: Aguere
Producer: Cocal Destileries
Variety: Honey Rum Vintage
Bottle volume: 70 cl.
%: 30 %
Present a Honey Rum Vintage PREMIUM very special.

Various suger cane juices, slowly matured for over 14 years, are blended together to obtain an excellent spirit and the necessary base to produce a Vintage Honey Rum. The excellence is achieved by adding pure base honey to leave the good, broad and balanced aftertaste of a good vintage rum. Its aroma reminds of flowers, citrus and sipces. We recommend taking it very cold, alone, with stones of ice or combined with citrus.
San Bartolome de Tejina distilleries:

Distilleries Cocal is the reference point in the manufacturing rum in the Canary Islands. Strongly implanted in the islands since 1948, maintains the tradition of producing the genuine rum canary; selecting the cane liquor and watching all the details of the maturation process of their old male who according to Canary Islands tradition, are combined with a choice of honey bees to achieve a drink exotic and unique, and our honey rum Cocal or Guajiro.
TuCanarias is the Worldwide Official Exclusive Dealer of Cocal in Internet who produce GUAJIRO, AGUERE, COCAL, COBANA, UCANCA & LAS COLMENAS brands
The sale of alcohol to minors under the age of 18 is prohibited. Responsible consumption is recommended.
Related Products