Millac Powder Milk 1 Kg (8 liters)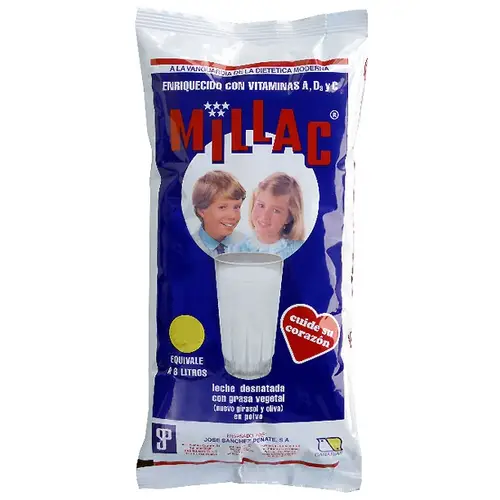 Click on the image to open the gallery;



Brand:

Millac

Reference:

9125321247181215

Availability:

Sold out







---

MILK POWDER MILLAC 1 KG (8 liters of milk).

MILLAC contains basic compontes fresh milk except the fat, which is of plant origin, developed according to the latest procediemintos, giving the consumer the maximum grarantías purity, high nutritional value and delicious taste. The mixture of cows milk, pasteurized skimmed and non-hydrogenated vegetable fats of high quality (sunflower oil), rich in monounsaturated fatty acids, is dried by pulverizacón to abja temperature, which retains the high nutritional value of the proteins, at the same time it helps regulate cholesterol and balance diet.

For 200ml glass:


Protein: 6.2g

Total Fat: 6.4g

Carbohydrates: 9.6g

Minerals: 1.5g

Calories: 121
MILK POWDER MILLAC 1 KG (8 liters of milk).
MILLAC contains basic compontes fresh milk except the fat, which is of plant origin, developed according to the latest procediemintos, giving the consumer the maximum grarantías purity, high nutritional value and delicious taste. The mixture of cows milk, pasteurized skimmed and non-hydrogenated vegetable fats of high quality (sunflower oil), rich in monounsaturated fatty acids, is dried by pulverizacón to abja temperature, which retains the high nutritional value of the proteins, at the same time it helps regulate cholesterol and balance diet.
For 200ml glass:

Protein: 6.2g
Total Fat: 6.4g
Carbohydrates: 9.6g
Minerals: 1.5g
Calories: 121
The sale of alcohol to minors under the age of 18 is prohibited. Responsible consumption is recommended.
Related Products