Multi Cereals, Vegetables & Soja Gofio El Palmar 1kg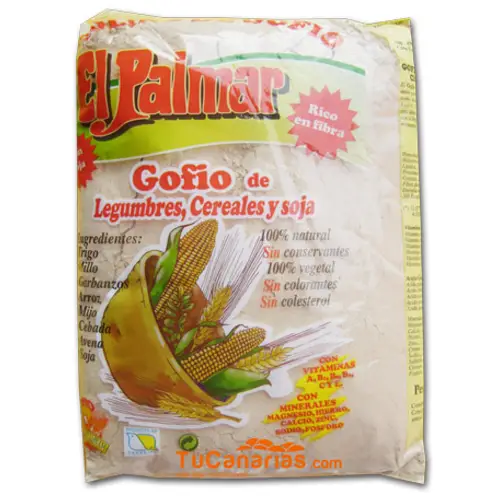 Click on the image to open the gallery;
Gofio of Corn, Wheat, Oats, Millet, Barley, Rice, Soya and chickpeas 1kg

Is a highly recommended for digestive a healthy, balanced diet. Besides having the same protein, vitamins and minerals that gofios earlier gofio cereal provides high quality protein and phytoestrogens from soy isoflavones, which protect against osteoporosis and reduce the risk of cardiovascular disease and cancers linked with hormones.

For its high content of nutrients, its aroma and flavor is best suited to accompany the milk for breakfast. This variety of gofio Canary combines propiededas of cereals in the diet and introducing traditional Canarian gofio with soybeans, and also with chickpeas.

The proper selection of raw materials, its perfect mix and the degree of roasting and grinding appropriate makes our product a unique food that is in the forefront of modern food.

Gofio Multicerals, Legumes and soybeans: 1000g
The culinary options of the Canarian Gofio are innumerable, in addition to the unrepeatable Gofio with milk for family breakfast or as a snack for the little ones, there are countless dishes served in the Canarian confectionery with Gofio such as Gofio Mousse, Gofio Nougat, Bananas with Gofio, is also frequently added to first courses such as stews and soups, the kneaded gofio or the rich escaldón.

Gofio Wheat EL PALMAR 75 years making artisan Canarian Gofio:
In Buenavista del Norte in Tenerife, the old Gofio el Palmar mill has been located for more than 75 years, from where we continue to produce uninterruptedly, with the same ancestral mill, just as it was 75 years ago. the authentic Canarian gofio, in an artisanal way, with the same dedication and affection as our ancestors did, hence its excellent flavor and healthy properties are a benchmark for Gofio de Canarias and the culture of the islands, Gofio El Palmar a super food 100% natural delicious and without preservatives.
.
Related Products