Tirma Wafers Ambrosia Chocolate 16 units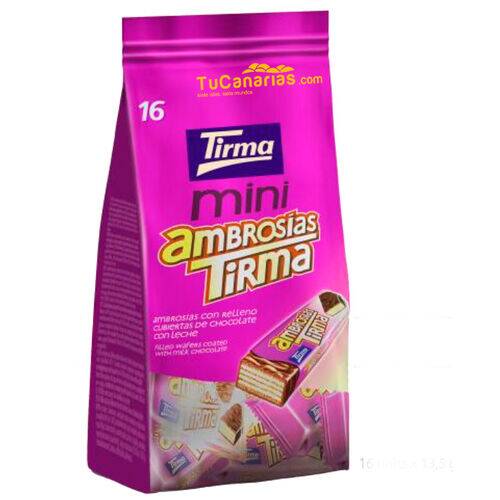 Click on the image to open the gallery;



Brand:

Tirma

Reference:

5205041105491011

Availability:

In Stock






Mini Wafers Milk Chocolate Tirma 16 units
The exquisite ragweed are crisp wafers Tirma filled with cream, covered with milk chocolate.
Ingredients: Coverage of 35% milk chocolate, sugar, wheat flour, vegetable fat, cocoa, cheese, whey, dextrose, vegetable oil, milk powder, soy lecithin, salt, color, acidity regulator, raising agent and aromas . Futos may contain nuts.
Net weight: 216 g.
Tirma:
Tirma, SA was founded on March 31, 1941, resulting from the grouping of different industries, from 1927 until that date, operating independently.
Since the beginning of its activity, Tirma, SA has always opted for the expansion and renovation of its range of products. Once within the first years of activity, the incorporation of new technologies in their production processes and the strong commitment to quality in the manufacture of its products led to Tirma SA Support for a leadership position within its natural market in the Canary Islands. This, together with the introduction of new products, led to the evacuation of its facilities from its original location to the site now occupied Escaleritas on Avenida de Las Palmas de Gran Canaria. Currently, Tirma, SA facilities with over 18,000 m2.
Related Products