Mix Wheat & Corn Gofio El Palmar 1 Kg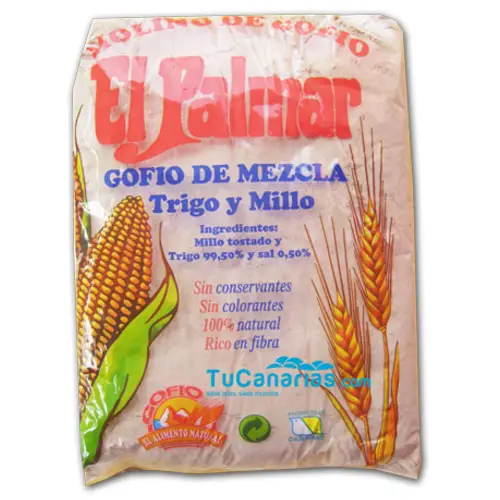 Click on the image to open the gallery;
Mix Wheat & Corn Gofio El Palmar 1 Kg
Mix Wheat & Corn Gofio El Palmar 1 Kg is made from millet and wheat in the right proportion. Like the rest of our own retains all the nutrients of the grain. Its proper grinding and mixing the ingredients needed to make a superior quality product that you are not adding any chemicals. Its texture and color are intermediate between gofio wheat and millet and maintains all of the properties of the grain component: rich in fiber, beta-carotene, vitamintas B1, B3, B9, and phytoestrogens also has antioxidant properties and vitamin E.
Composition: Wheat integral: 49.75% - Millo Integral: 49.75% - Salt Navy: 0.5%

Gofio Mixed - 1,000g
The culinary options of the Canarian Gofio are innumerable, in addition to the unrepeatable Gofio with milk for family breakfast or as a snack for the little ones, there are countless dishes served in the Canarian confectionery with Gofio such as Gofio Mousse, Gofio Nougat, Bananas with Gofio, is also frequently added to first courses such as stews and soups, the kneaded gofio or the rich escaldón.

Gofio EL PALMAR 75 years making artisan Canarian Gofio:
In Buenavista del Norte in Tenerife, the old Gofio el Palmar mill has been located for more than 75 years, from where we continue to produce uninterruptedly, with the same ancestral mill, just as it was 75 years ago. the authentic Canarian gofio, in an artisanal way, with the same dedication and affection as our ancestors did, hence its excellent flavor and healthy properties are a benchmark for Gofio de Canarias and the culture of the islands, Gofio El Palmar a super food 100% natural delicious and without preservatives.
Related Products