Honey Rum Aldea La Palma Vintage Cask Selection



Brand:

Ron Aldea

Reference:

693017010140213

Availability:

In Stock






Honey Rum Aldea Special Cask Selection Barrel
Brand: Ron Aldea
Producer: Ron Aldea Distilleries
Varieties: Honey Rum Vintage Premium DOP
Bottle volume: 0.7 L.
Graduation: 30%
Bottle: Glass
Elaboration:
With the exquisite Honey Rum Aldea Special Cask Selection, homage is paid to the most popular spirit drink of the Canary Islands, reinventing the honey rum to a vintage Super Premium category, never before known, the first reserve honey rum in the world. Inspired by a recipe from La Palma from the 18th century, Honey Rum Special Cask Selection is the premium aged Canary Islands rum.
A selected blend of guarapo made from authentic sugar cane from La Palma, aged in the best barrels of the distillery, to which honey infused with citrus is added, to return it to American oak and finish refining this incredible Ron Miel full of nuances, sweet, but with a subtle and attenuated sweetness that will be the delight of lovers of Ronmiel de Canarias.
RON ALDEA y ABORIGEN
Since 1936, in the Canary Islands, Ron Aldea has been produced by hand with sugar cane grown on its own plantations on La Palma island, currently being the distillery dedicated to the traditional production of authentic Canary rum with eight hectares of sugar cane organically produced.
Ron Aldea, after 4 generations of master rum makers, makes agricultural and exclusive rums, produced with its own cane juice that is distilled depending on the final product, using direct fire for special editions, or biological energy for the rest of Aldea rums and Aborigen liquors, highlighting its honey rum, caramel rum, banana liqueur, as well as an exclusive cocktails colección.
Perfect agricultural rum, of extreme quality and personality that is produced in an artisanal way with sugar cane juice from La Palma, an unparalleled island where nature, tradition and crafts come together in harmony to combine the aroma of native sugar cane. freshly cut, the purity of the spring water and the breeze of the Atlantic Ocean.
Ron Aldea, a unique experience, 100% from Canary Islands, totally handmade.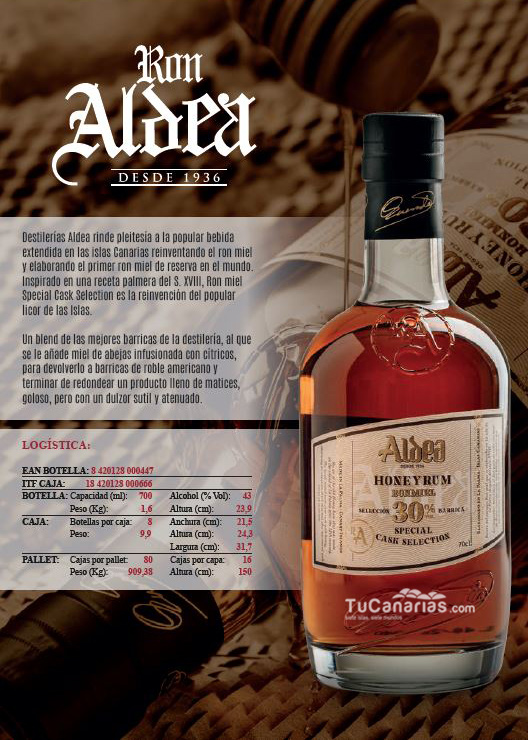 The sale of alcohol to minors under the age of 18 is prohibited. Responsible consumption is recommended.
Related Products