Munchitos Patatoes 160g Family Package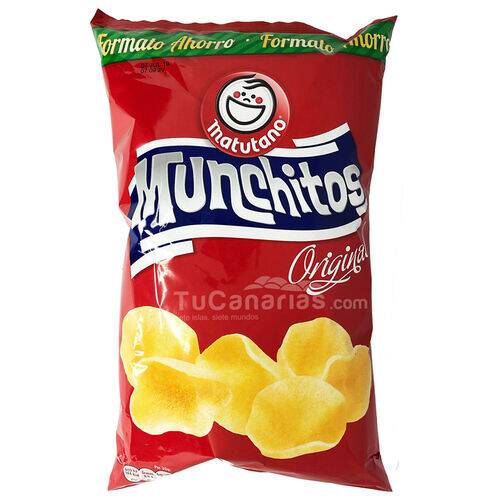 Click on the image to open the gallery;
Munchitos Potatoes Giant bag 160 g.

Potato snack with no preservatives or artificial colors.

ingredients: Potato flakes (57%), vegetable oil, rice flour, potato starch (9%), corn flour, salt and yeast.
Your Munchitos of a lifetime! Enjoy the authentic taste of Munchitos anywhere and anytime: alone, with your friends, with your family, with your boyfriend, on the beach, watching a movie... A unique flavor and crunch! It is not necessary to say much more, because you already know them.
The magic of Munchitos: Aperitivos Snack is the company that manufactures Munchitos, a brand that has been in the Canary Islands for more than 40 years. Muchitos is the best-selling snack in the archipelago, every year 6,500,000 bags of Munchitos are made, that salty snack that drives all of us canaries crazy and is part of the lives of all generations of canaries. It constitutes our taste, climate and way of being. Thus, Munchitos is in every corner of the islands, in any company dedicated to food, from large supermarkets, to traditional neighborhood stores, bars and cafes.
Related Products