Testamento Malmsey Dry Wine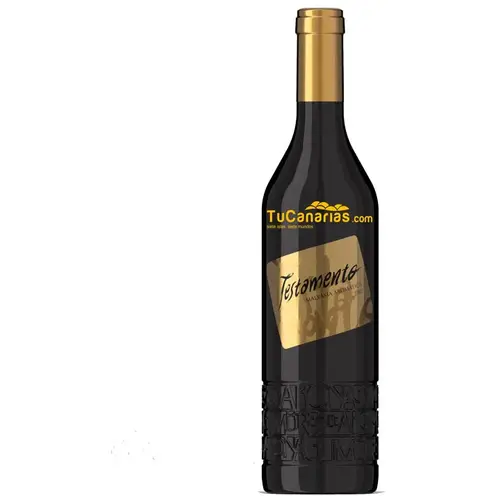 Click on the image to open the gallery;
.
Type: Malvasia Dry
Brand: Testamento
Producer: Cumbres de Abona Winerie
Variety: Malvasia
Volume bottle: 750 cl.
Production area and processing: Produced in the Comarca de Abona which includes the municipalities between Fasnia and Adeje. This wine has the privilege of being made ​​exclusively by the variety of Malvasia, a varietal that provides a unique quality and production while having little unusual today, but became the predominant variety in our islands.
Tasting Notes: Yellow golden flecks clean, clear, fine nose of tropical fruits, and reminds us of vanilla. His mouth is wide and dense, with an aftertaste that reminds us of the variety.
Awards:
Regional Alhondiga Competition
2 nd Prize 2004
The international Wine-Spirit Competition
Best Wine 2005
Zarcillo International Competition
Silver Medal 2006
The International Wine - Spirt Competition
Silver Medal Best in Class 2006
Regional Alhondiga Competition
1st Prize 2006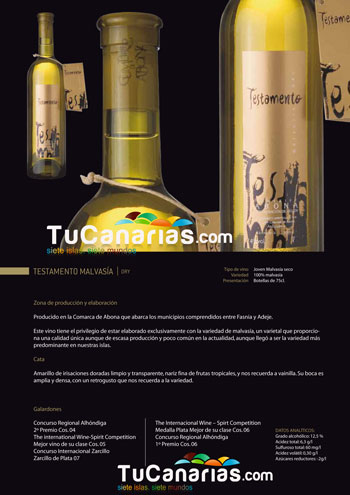 Wineries Cumbres Abona: The summits Abona wines are produced in the county wine Abona, which covers the municipalities comprising between Fasnia and Adeje in the south of the island. Their vineyards reach more than 1750 meters. altitude, making them be the highest in Europe. Fundamental factors are the quality of its sun and volcanic soils that characterize the region, confinement unmatched taste and aromas, great personality. This Cooperative Society Cumbres de Abona part of the PDO of the Comarca de Abona and according to the Record Book Wineries of this denomination, there are 16 registered wineries processing and bottling. La Cooperativa de Abona Summit Winery is the largest of the Comarca de Abona and is within the top five wineries across the island of Tenerife.
The sale of alcohol to minors under the age of 18 is prohibited. Responsible consumption is recommended.
Related Products