White Wine Marba Fruity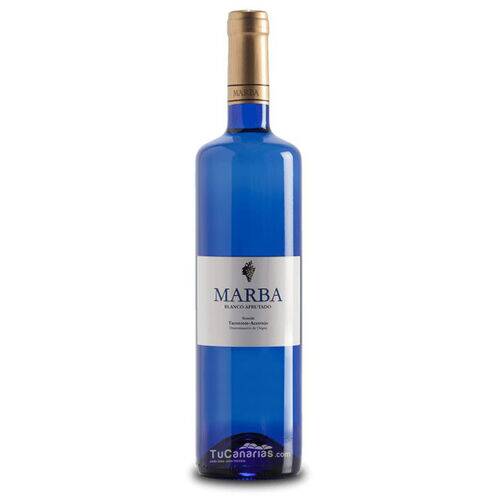 Click on the image to open the gallery;



Reference:

7102412348281

Availability:

Sold out







---

Marba White Fruity Wine

Type: White Fruited
Brand: Marba
Producer: Bodega Marba
Volume bottle: 75 cl.
Area: Tacoronte Acentejo

Region: Canary Islands

SEMI-SWEET. Fruity White

Clean and bright appearance. Greenish tones. Absent of rusty tones.

Floral and fruity aromas marked by the variety. Fresh, well structured, elegant and complex flavor. Harmonious in all its phases. With its own personality. Ideal for pairing fish, rice, pasta, vegetables. As an aperitif or to accompany light desserts.

70% Listan white, 30% Aromatic Malvasia and Muscatel
Serve between 8 - 10 ºC
Producer Bodegas MARBA
75cl bottle. (11% vol.)

Latest recognitions:

GOLD INTERNATIONAL CINVE CONTEST 2021

SILVER INTERNATIONAL WINE & SPIRITS AWARDS 2021 Contest

SILVER CERVIM, Mondial DES VINS EXTREMES 2021 Contest
Marba White Fruity Wine
Type: White Fruited
Brand: Marba
Producer: Bodega Marba
Volume bottle: 75 cl.
Area: Tacoronte Acentejo
Region: Canary Islands
SEMI-SWEET. Fruity White
Clean and bright appearance. Greenish tones. Absent of rusty tones.
Floral and fruity aromas marked by the variety. Fresh, well structured, elegant and complex flavor. Harmonious in all its phases. With its own personality. Ideal for pairing fish, rice, pasta, vegetables. As an aperitif or to accompany light desserts.
70% Listan white, 30% Aromatic Malvasia and Muscatel
Serve between 8 - 10 ºC
Producer Bodegas MARBA
75cl bottle. (11% vol.)
Latest recognitions:
GOLD INTERNATIONAL CINVE CONTEST 2021
SILVER INTERNATIONAL WINE & SPIRITS AWARDS 2021 Contest
SILVER CERVIM, Mondial DES VINS EXTREMES 2021 Contest
Bodegas Marba: Bodegas Marba began its activity in 1993, the result of a dream of its founder Domingo Martín Cruz; Those first wines were widely accepted by friends and family. Encouraged by the good results, the goal is to produce high-quality wines. Table wine was marketed under the "El Pino" brand for two years, being in the year 2000 when the marketing of the wine with D.O. and MARBA brand. This name comes from the family surnames Martín Báez and in recognition of the effort put into the creation and maintenance of the winery.
The sale of alcohol to minors under the age of 18 is prohibited. Responsible consumption is recommended.
Related Products