Gin GIN 72 16 Botanicals Fuerteventura Ed Ltd



Brand:

GIN 72

Reference:

693007010140228

Availability:

In Stock






Gin GIN 72 16 Botanicals Fuerteventura Ed Ltd
Brand: GIN 72
Producer: Destilerías AguasGuanche
Variety: London Dry GIN 16 Botanicals
Bottle volume: 0,7 L.
Graduation: 43%
Botle: Mud
GIN 72: · 16 Botanicals · Canarian DNA · 100% Handmade · Copper Alembic · Super Premium · 100% Canarian · Smallest distillery in the world · Limited Edition.
With Majorero DNA from Fuerteventura, the first Premium London Dry Gin from the Canary Islands is born in the smallest and most exclusive Distillery in the world.
Gin 72 is a Super Premium craft Gin of the highest quality resulting from careful research, selection and combination of 16 local ingredients including botanicals, fruit and vegetables. Cataloged as London Dry Gin, it is perfumed, persistent and refined with its three distillations and its 43º, it transmits all our love and passion for what we do.
BOTANICAL INGREDIENTS:
Juniper Berries, Pink Pepper, Passion Fruit, Sage Leaves, Coriander Grains, Ginger, Licorice, Fennel Grains, Celery, Star Anise, Wakame Seaweed, Orange Blossom, Green Cardamom, Lemon Peels, Lime Peels, Shells of grapefruit.
TASTING NOTES:
Gin 72 London Dry is fresh, aromatic, pure and citrusy on the nose. On the palate it is full, persistent, refreshing and finely dry. A distillate with a fresh and enveloping flavor, perfect for classics and mixologists who want to introduce something innovative in traditional and new generation cocktails.
CONSUMPTION:
In Gin Tonic its flavor is elegant, aromatic and persistent and reaches its maximum splendor by adding a slice of Grapefruit - Granny Smith Apple and Lime or Rosemary and Ginger. Excellent in traditional and innovative cocktails or to drink neat. Like all high-quality products, Gin 72 reaches perfection only if drunk in good company…
PROCESS:
Gin 72 London Dry, does not allow its manipulation once the distillation has been carried out, which is carried out in three phases. After macerating the juniper and the alcohol for 48 hours, the rest of the botanical ingredients are mixed and it is kept in 97-degree alcohol for 24 hours. The mass resulting from the two processes is introduced into the alembic proceeding to the third distillation. The secret is the handmade copper alembic, which "is the GIN 72 soul". In this way, an elixir of more than seventy degrees is achieved, to which spring water is added to reduce its graduation intensity to 43 degrees. As a result, a masterpiece of extraordinary quality and with the pure essence of the Canary Islands.
GIN 72 by AGUAGUANCHES DISTILLERY
In the middle of the Atlantic Ocean, under the intense African sun, lulled by this wonderful sea, the trade winds caress our archipelago, the Canary Islands, bringing us different cultures, stories that come from afar, dreams and intuitions that will come true.
AguaGuanches Distillery, the smallest distillery in the world, 100% from Fuerteventura, 100% handmade.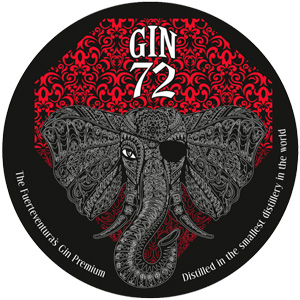 The sale of alcohol to minors under the age of 18 is prohibited. Responsible consumption is recommended.
Related Products