Canarian Vodka Spagnolo Premium Pure Grain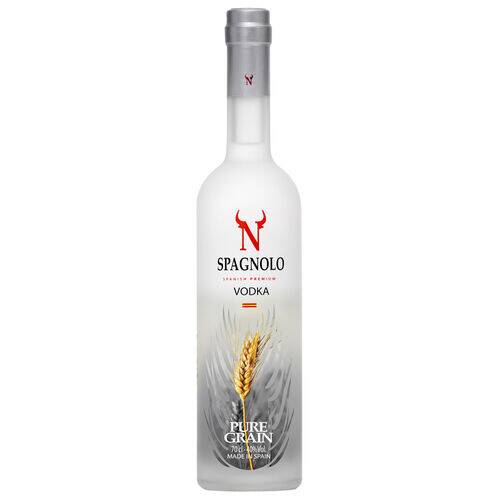 Click on the image to open the gallery;
Canarian Vodka Spagnolo Premium Pure Grain
Elaborated with water from rain galleries with natural volcanic phytose and botanics from the Canary Island
Brand: Spagnolo
Producer: Santa Cruz Distilleries
Variety: Pure Grain Vodka
Volume: 0.7 L.
Graduation: 40%
Bottle: Glass

Spain has traditionally been a country of farmers, from the experience developed over the years in the cultivation of cereals, the essence of this Vodka is born. Spagnolo Vodka is obtained from the careful selection of fine grains that have been grown in a unique environment.
Earth, Water and Sun from Spain, one of the best in Europe, give balance to each ear of wheat that after a complex, secret and controlled distillation and filtering process will become this pure, transparent and crystalline Vodka.
Inside its crystal, called high transparency that allows to visualize its purity, we have conserved 60% of the highest quality water extracted from the volcanic gallery of the Canary Islands. The natural filtering that occurs through the porosity of the rock preserves all the attributes that nature provides and that make it unique.
Spagnolo Vodka holds its secret with an exclusive cork stopper that makes all its properties remain intact over time.
It is silky in the throat, it covers the mouth with a soft wheat aroma, perfectly integrating the perception of alcohol in the mouth. It is exclusive, elegant and fresh, a select Premium quality vodka. Spagnolo Vodka is the first Design Vodka made in the Canary Islands for the whole world.
The sale of alcohol to minors under the age of 18 is prohibited. Responsible consumption is recommended.
Related Products