Macaronesian Gin Brownie Chocolate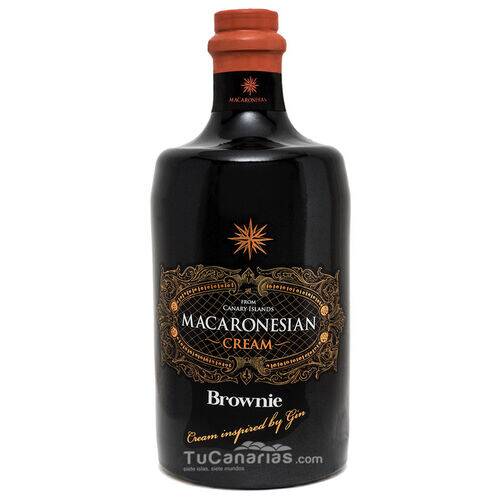 Click on the image to open the gallery;
Macaronesian Gin Brownie Chocolate
Macaronesian Gin Brownie Cream is the perfect combination of sumptuous notes of intense pure chocolate with a delicate and creamy touch of vanilla
Type: Gin Chocolate Liqueur
Brand: Macaronesian
Producer: Santa Cruz Destileries
Variety: Gin Brownie Chocolate Liqueur
Volume: 0,7 L
Alcohol %: 15.9%
Bottle: Ceramic
Macaronesian Brownie Cream is the perfect combination of sumptuous notes of intense pure chocolate with a delicate and creamy touch of vanilla. Drops of exciting flavor that melt in your mouth to offer an exquisite bite, the perfect dessert served in the glass.
Macaronesian Gin is a specialist in creating unique and unrepeatable sensations on the palate. This is how Macaronesian Brownie Cream was born. Delicately designed to delight the palate and be captivated by chocolate in its purest form. Create and share unique moments of touch, seduce and let yourself be seduced by this delicious cream.

Select cocoa: The exquisite fruit of the cacao tree is selected under the best quality standards to be able to create a cream with a unique character that evokes the authentic and intense flavor of chocolate.
The bottle: Macaronesian Gin is packaged in a classic and traditional ceramic bottle, composed of organic materials based on mud and organic dyes. The earth and clay, fundamental components baked at more than 1200 degrees, guarantee the non-filtration and purity of this Geneva. An exclusive synthetic cork stopper, seals and does not contaminate the product, as it does not stain or discolor.
Artisan Elaboration: Made in the Canary Islands in small productions with an almost handmade process that gives rise to Macaronesian Gin. A very balanced Gin, with moderate alcoholic perception in the mouth, predominating botanical flavors and aromas.
The sale of alcohol to minors under the age of 18 is prohibited. Responsible consumption is recommended.
Related Products