Ron Aldea Rum Single Estate Organic 53% Ltd Ed



Brand:

Ron Aldea

Reference:

693007010140212

Availability:

In Stock






Ron Aldea Single Estate Organic 53% Limited Edition
Brand: Ron Aldea
Producer: Destilerías Ron Aldea
Variety: White Organic limited rum
Bottle volume: 0,7 L.
Graduation: 53%
Botle: Cristal + Case
Limited edition: 1.700 botles
Elaboration:
ECOLOGICAL. High expression white rum. Single Estate is a vintage rum that is made in each Zafra with a meticulous selection of sugar cane that grows following the organic farming techniques of the Canary Islands and the European Union, at Finca de Los Camachos, owned by the Quevedo Family. for several decades.
This is the first and only 100% local production organic rum made in the Canary Islands and Spain. This high purity rum shows the noble and wild nature of our original raw material, impregnating the environment with the aroma and flavor of fresh sugar cane wrapped in volcanic and saline notes from our land. Limited edition of less than 2,000 bottles by Zafra.
RON ALDEA y ABORIGEN
Since 1936, in the Canary Islands, Ron Aldea has been produced by hand with sugar cane grown on its own plantations on La Palma island, currently being the distillery dedicated to the traditional production of authentic Canary rum with eight hectares of sugar cane organically produced.
Ron Aldea, after 4 generations of master rum makers, makes agricultural and exclusive rums, produced with its own cane juice that is distilled depending on the final product, using direct fire for special editions, or biological energy for the rest of Aldea rums and Aborigen liquors, highlighting its honey rum, caramel rum, banana liqueur, as well as an exclusive cocktails colección.
Perfect agricultural rum, of extreme quality and personality that is produced in an artisanal way with sugar cane juice from La Palma, an unparalleled island where nature, tradition and crafts come together in harmony to combine the aroma of native sugar cane. freshly cut, the purity of the spring water and the breeze of the Atlantic Ocean.
Ron Aldea, a unique experience, 100% from Canary Islands, totally handmade.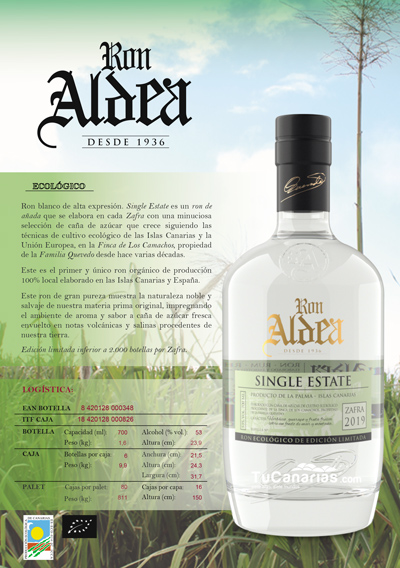 The sale of alcohol to minors under the age of 18 is prohibited. Responsible consumption is recommended.
Related Products