Rum Aldea Maestro 10 years Ltd Edition



Brand:

Ron Aldea

Reference:

693007010140221

Availability:

In Stock






Rum Aldea Maestro 10 years Ltd Edition
Brand: Ron Aldea
Producer: Destilerías Ron Aldea
Variety: Premium Rum 10 years
Bottle volume: 0,7 L.
Graduation: 40%
Botle: Cristal + Case
Limited edition: less than 10.000 botles
Elaboration:
Vintage rum made for the first time in 2011 with the 2001 vintage, by the fourth generation of Master Rum Makers of the Quevedo Family, as a result of nearly a century of experience growing sugar cane and making rum.
For this rum, the Maestro Ronero has determined to use only American oak barrels in its maturation process. The aged and assembled spirits in this rum have been carefully selected from among the most outstanding of the same vintage, with a minimum maturation period of 10 years.
It stands out especially for its impressive notes of vanilla, cocoa, coconut and coffee. It is sweet, fruity and very easy to drink.
Our production process follows the traditional recipe and the steps of our ancestors. It all begins with La Zafra, the sugarcane harvest period, between March and July. Grinding is then produced, the process of crushing and pressing the sugar cane, by which the juice or guarapo is obtained. The guarapo, once extracted, is fermented naturally for about 30 hours and becomes Distilled, by direct heating of the guarapo and continuous distillation, in an Egrott column still, over a live fire of heather and Falla wood. The brandy obtained is deposited in French oak barrels at a percentage of 65% alcohol.
RON ALDEA y ABORIGEN
Since 1936, in the Canary Islands, Ron Aldea has been produced by hand with sugar cane grown on its own plantations on La Palma island, currently being the distillery dedicated to the traditional production of authentic Canary rum with eight hectares of sugar cane organically produced.
Ron Aldea, after 4 generations of master rum makers, makes agricultural and exclusive rums, produced with its own cane juice that is distilled depending on the final product, using direct fire for special editions, or biological energy for the rest of Aldea rums and Aborigen liquors, highlighting its honey rum, caramel rum, banana liqueur, as well as an exclusive cocktails colección.
Perfect agricultural rum, of extreme quality and personality that is produced in an artisanal way with sugar cane juice from La Palma, an unparalleled island where nature, tradition and crafts come together in harmony to combine the aroma of native sugar cane. freshly cut, the purity of the spring water and the breeze of the Atlantic Ocean.
Ron Aldea, a unique experience, 100% from Canary Islands, totally handmade.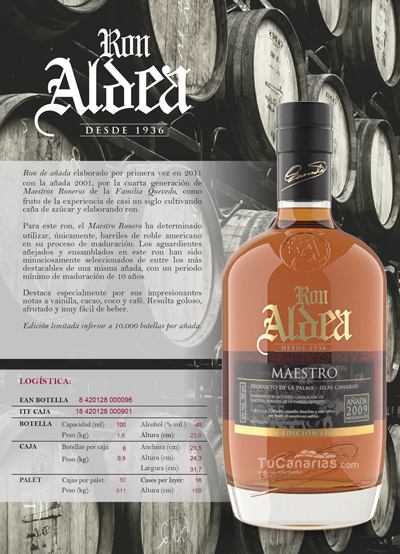 The sale of alcohol to minors under the age of 18 is prohibited. Responsible consumption is recommended.
Related Products