Vina Norte Red wine Carbonic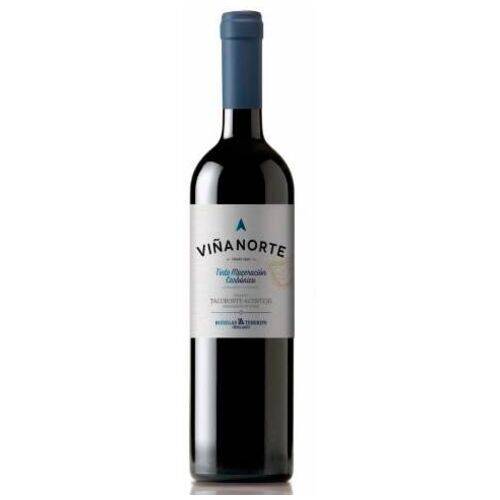 Click on the image to open the gallery;
Type: Red Carbonic Maceration
Brand: Viña Norte
Producer: Bodegas Insulares de Tenerife, s.a.
Variety: black list
Volume bottle: 75 cl.
Alcohol: 13º
Heading home: Taraconte-Acentejo
Region: Canary Islands
Prepared System carbonic maceration. 1st phase: barreling of whole bunches for 7 days at 30 ° C. Stage 2: After pressing 3-4 days at 20 ° C.

Grape Varieties: 95% Black and 5% Listán Negramoll.

Tasting Notes: Its development particularly red wine provides cherry red with violet tones, well marked, well covered and alive, clean and bright, the aroma is intense and complex fruit (raspberry and blackcurrant) emphasizing in his mouth balance and body; tasty, with elegant finishing touch tannic. Long finish with hints of fruit.

Awards:

Vinalies Paris:
• Distinction of Excellence in 1994 and 1995.
• Silver Vinalia 2005 and 2006.
Young Wine Competition of the UEC:
• Golden Bacchus in 1994, 1998 and 2006.
• Silver Bacchus in 1999 and 2008
• Bronze Bacchus in 1995, 2000 and 2004.
Zarcillo Awards Board Castilla y Leon:
• Zarcillo Plata in 1995.
• Finalist in 1994.
Challenge International du Vin Bordeaux:
• Bronze Medal in 1996.
World Wine Contest in Brussels:
• Gold Medal in 2004.
• Silver Medal in 1998, 2000 and 2009.
• Bronze Medal in 1996.
• Gold Medal in 2010.
Ljubljana International Wine:
• Gold Medal in 1995 and 1998.
• Silver Medal in 1996, 2002 and 2009.
Spain International Competition Bacchus:
• Bacchus Gold in 1996, 2002, 2010.
• Silver Bacchus in 2008.
Alhóndiga Regional Competition:
• 1st prize at the VII and XVIII Contest.
• 2nd Prize in the Contest XX and XXII.
• 3rd Prize in the Contest XIX.
• Silver Alhóndiga in Contest XXIV.
• Bronze in Alhóndiga Contest XXIII.
Agrocanarias Contest:
• Gold Medal in 2003 and 2008.
• Gold Medal 2002 and 2009.
• Silver Medal in 2005 and 2007.
First (contest carbonic maceration wines)
• First place in 2009.
Best Young Red Spain by the Spanish Association of Journalists and Writers of Wine (AEPEV)
Lyceum Society Taoro. XXVII Wine Competition Villa de la Orotava
• 2nd Prize
Serving temperature: 14 º C.

Pairing: Pasta, oriental foods, fish, poultry, vegetables, seafood ...
Wineries Bodegas Insulares de Tenerife, s.a. is formed by winegrowers of the Tacoronte-Acentejo, located north of the island of Tenerife, and from the 2005 harvest, the winery also by Regional Wines of Icod, further north of the island. This has grown from 170 members in 1992, the date of its constitution, to 803 winegrowers, of which 704 belong to the cellar and 99 Tacoronte the cellar Icod.
After rigorous controls ripening, the quality of grapes in the field and processes allow us to achieve a winery excellent wines that have achieved a great reputation both in the islands and abroad, having already obtained numerous national and international awards.
The work of Tenerife Island Winery, based in obtaining high-quality wines, the best known of the Canary Islands can be seen as the most positive impact is taking towards a larger number of wine growers, guaranteeing them prices of grapes profitable , Effectively supporting the maintenance of many economies relatives of the two Counties and ultimately being a factor, perhaps the most important of the Canary Islands, linking growers to the territory and therefore keeping hundreds of hectares of vineyards that, in turn, make our landscape to retain its beauty and charm.
The sale of alcohol to minors under the age of 18 is prohibited. Responsible consumption is recommended.
Related Products