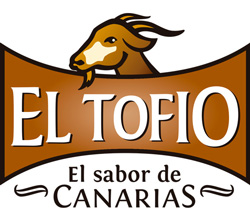 Quesos Tofio
Official Online shop TOFIO Cheeses from Lanzarote, Canary Islands
Tofio, the best cured goat cheese in Spain 2016. Cured, Semi-cured and Smoked Cheeses
Tofio, a cheese made with 100% milk from Lanzarote, is also one of the most awarded cheeses and in its Cured Goat Cheese variant, it won the award for the best cheese in Spain. The recognitions that Grupo Ganaderos de Fuerteventura has received are its best letter of introduction. Throughout its history, the company and its brands have been honored with more than 100 national and international awards.
The prestige of Tofio is guaranteed by the quality of the raw material used, Lanzaorte goat's milk, with exceptional organoleptic qualities, and with the delicate care in its preparation, respecting the artisan tradition.
Tofio goat's milk cheese from Lanzarote: Isla del Fuego y de Volcanes, has developed an unprecedented and peculiar landscape, difficult to find in other latitudes. There are a small number of cheese factories on the Island. Cylindrical in shape, they weigh between 1 and 3 kg. Lanzarote cheese has a very thin rind, white in color, just as the cut paste is also white. On its edges stands out the traditional drawing of the sera (pleita - empleita), made from braided palm leaves or other material. Its flavor is soft, acidulous, pleasant to the palate and with a delicate aroma. Traditionally, these cheeses are spread with paprika or smoked.
· WORLDWIDE SHIPPING · CUSTOMS INCLUDED · 700 CANARIAN PRODUCTS · PURCHASE GIFTS · FREE ALL RISK INSURANCE · SALE TO CONSUMERS AND WHOLESALE ·
· FREE DEDICATIONS for your GIFTS and FREE PERSONALIZATION on each product for celebrations, congresses and events ·
Results for Quesos Tofio