Tofio Smoked Cheese 300 g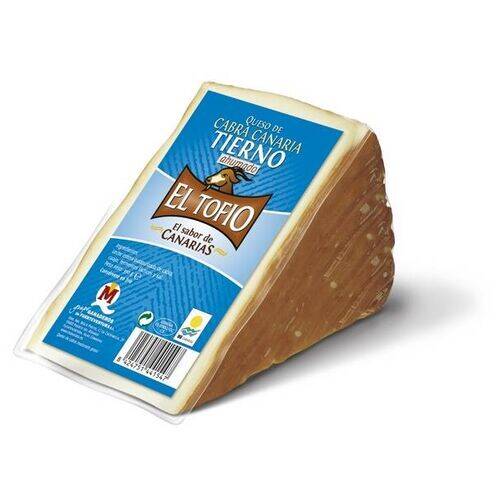 Click on the image to open the gallery;
Brand:

Tofio

Reference:

719552255411216

Availability:

Sold out
---
Lanzarote Tofio Smoked Cheese Paprika 300 g.
DESCRIPTION: Product made from pasteurized goat milk from Lanzarote to which is added, a suitable temperature, starter cultures and rennet for coagulation.

Weight approx.: 300 g.
INGREDIENTS: Goats milk, rennet, milk enzymes and salt..
EXP: 12 months from the packaging.
VARIETY: Smoked.
PACKAGING: Vacuum
Lanzarote Island of Fire and Volcanoes, has developed an unprecedented and unusual landscape, difficult to find elsewhere. On the island there are a small number of dairies, but not its cheeses are less important. Cylindrical shape, have a weight of between 1 and 3 kilos. Lanzarote cheese crust is very thin, white, and white pulp is also the court. Stresses at the edges of traditional drawing sera (Litigation - part-time job), made from woven palm leaves or other material. Taste is soft, acidic and pleasing to the palate and delicate flavors. Traditionally, these cheeses were smeared with red pepper, roasted maize meal or oil.

For further information on Canary cheeses see www.QuesoCanarias.com
Lanzarote Tofio Smoked Cheese Paprika 300 g.
DESCRIPTION: Product made from pasteurized goat milk from Lanzarote to which is added, a suitable temperature, starter cultures and rennet for coagulation.

Weight approx.: 300 g.
INGREDIENTS: Goats milk, rennet, milk enzymes and salt..
EXP: 12 months from the packaging.
VARIETY: Smoked.
PACKAGING: Vacuum
Lanzarote Island of Fire and Volcanoes, has developed an unprecedented and unusual landscape, difficult to find elsewhere. On the island there are a small number of dairies, but not its cheeses are less important. Cylindrical shape, have a weight of between 1 and 3 kilos. Lanzarote cheese crust is very thin, white, and white pulp is also the court. Stresses at the edges of traditional drawing sera (Litigation - part-time job), made from woven palm leaves or other material. Taste is soft, acidic and pleasing to the palate and delicate flavors. Traditionally, these cheeses were smeared with red pepper, roasted maize meal or oil.

For further information on Canary cheeses see www.QuesoCanarias.com
Related Products