Gomeron Palm honey liqueur Masape la Gomera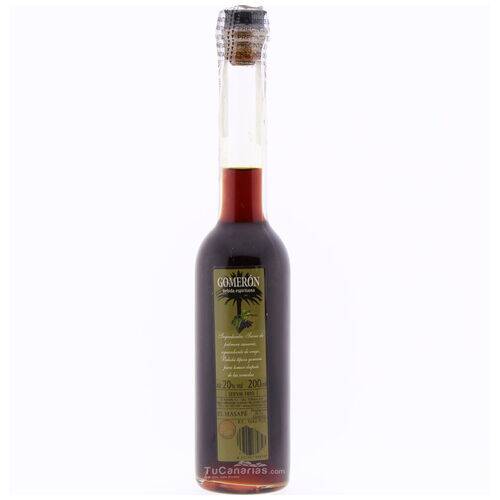 Click on the image to open the gallery;



Brand:

Masape

Reference:

568096319191018

Availability:

In Stock






GOMERON, Palm Honey Liqueur La Gomera Island
Brand: Masape
Producer: Masape Destilery
Variety: GOMERON, Palm Honey Liqueur
Bottle volume: 200 cc.
Alcohol %: 20%
Elaboration:
Among the most typical products of the gastronomy of La Gomera is the Gomerón, its flavor, sweet, intense and forceful at the same time, make it one of the jewels of the traditional products of La Gomera. The main ingredient of the Gomerón is the traditional palm honey, which is obtained by boiling the sap of the palm tree, known in the Canary Islands as "guarapo". Palm honey is one of the fundamental ingredients of traditional Canarian cuisine, accompanying all kinds of desserts and sweets.
The Gomerón is a liquor that is usually consumed after a meal, as a digestive and which is made from palm honey and vinegar brandy, with a sweet, roasted and robust flavor. There are those who drink it even as a soda.
MASAPE:
MASAPE distillery:
Masapé in Vallehermoso, on the island of La Gomera, we have dedicated more than 30 years to elaborate artisan products of confectionery and food of the Canary Islands under the tutelage of Doña Aniceta, who has been able to transmit with mastery for generations, the traditional gastronomic culture Gomera.
We have proposed that our products, made with love, are small ambassadors of the insular gastronomic culture. For exquisite palates we manufacture typical gomero handmade products. We take care of every detail, we produce and elaborate with the best raw materials of the Canary Islands because every bite of our pasta, mojos, honey, almogrote or marmalade, must be an extraordinary experience.
THE SALE OF ALCOHOLIC BEVERAGES IS FORBIDDEN TO PERSONS UNDER 18 YEARS OF AGE, PROOF OF AGE IS REQUESTED TO THE DELIVERY OF EACH ORDER.
The sale of alcohol to minors under the age of 18 is prohibited. Responsible consumption is recommended.
Related Products