Herreño Cheese White 600 g. - 2009 World Silver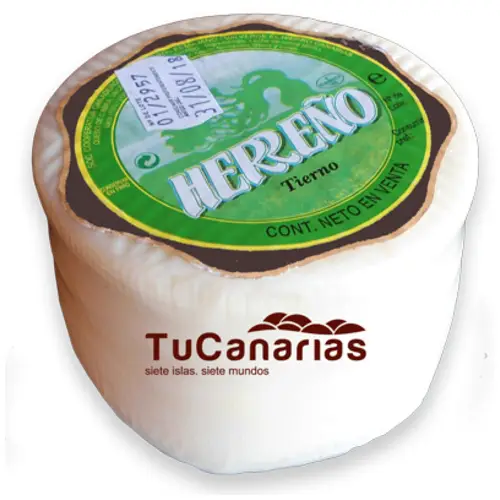 Click on the image to open the gallery;



Reference:

2618711954250413

Availability:

In Stock






White Herreño Cheese Ball of 600 g.
World SILVER 2009 World Cheese Awards
Description: A product made in the island of El Hierro to pasteurized milk base 85% goat, cow and sheep 10% and 5% is added, a suitable temperature, starter cultures, calcium salt and rennet for coagulation.

Tasting Notes: describe a cheese with a soft consistency, without eyes, ivory, buttery taste and soft palate and smooth appearance. The area average intensity prevails inside the family lactic milk and fresh butter.

Most representative Awards:

• Agrocanarias 2007 - soft pasteurized cheese.
• World Cheese Awards 2008 - Silver Medal World tender smoked cheese.
• World Cheese Awards 2009 - Silver Medal World tender smoked cheese.


Shape: Cylindrical
Weight approx.: 600 to 550 g.
INGREDIENTS: Goats milk 85%, cow 10% sheep and 5% calcium, rennet, milk enzymes and salt.
MATURATION: Between 8 and 20 days, according to format
EXP: 12 months from the packaging.

Cheese from the island of El Hierro, strong tradition of cattle kept the grass-ing of mixed herds, especially in La Dehesa. The production of most of their teachers cheese is grouped into a cooperative that sells cheese generational mix of milk, cylindrical parts, natural and smoked, weighing between 350 grams and 6 kilos. The outer bark Herreño Cheese is smooth, mottled white and beige color due to stalk Tuner smoked, and fig tree dry jara, giving an intense aroma and small are cutting peculiar.Al evenly spaced eyes and the taste is something sour, pleasant and suave.com curiosity, it is noted that in El Hierro cheese produced from cows milk, without salt, for the manufacture of the traditional sweet called Quesadillas.
To expand on information about Canary Islands cheeses, please access to www.QuesoCanarias.com
Related Products