Cider Posma Best Spain Cider 2021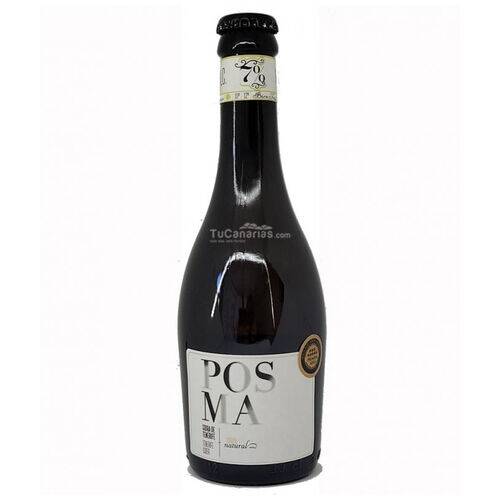 Click on the image to open the gallery;
Cider Posma Tenerife 33cl
First prize Best sparkling cider-brut. IX Gala International Cider Show (SISGA), held in Asturias, the cradle of cider.
Type: Cider
Brand: Posma
Producer: Ciders Posma
Bottle volume: 33 cl.
Origin: Sauzal Tenerife North
Variety: Pippin Apple
POSMA cider. Natural sparkling cider from Tenerife
A spectacular cider made in the north of the Island of Tenerife, 100% handmade and natural, based on reineta apple. This cider has been awarded as the best sparkling cider in Spain.
Cider Posma Awards:
First prize in the category of best sparkling cider-brut at the IX Gala International Cider Fair (SISGA), held in Asturias, the cradle of cider.
Bodegas Insulares of Tenerife Winery:
Bodegas Insulares de Tenerife is made up of wine growers from the Tacoronte-Acentejo region, located in the north of the island of Tenerife, and as of the 2005 harvest, also by the Icod de Los Vinos Comarcal Winery, further north in the region. Island. In this way, it has gone from 170 members in 1992, the date of its constitution, to 803 winegrowers, of which 704 belong to Bodega de Tacoronte and 99 to Bodega de Icod.
After rigorous maturation controls, the quality of the grapes in the field and the production processes in the cellar allow us to achieve excellent wines that have achieved great prestige both on the islands and abroad, deserving of hundreds of national and international awards and recognitions.
The work of Bodegas Insulares Tenerife, based on obtaining high-quality wines, the most renowned in the Canary Islands, can be considered the one that is having the most positive impact on a greater number of winegrowers, guaranteeing profitable grape prices , effectively supporting the maintenance of many family economies in the two counties and ultimately being a factor, perhaps the most important in the Canary Islands, linking winegrowers to the territory and therefore maintaining hundreds of hectares of vineyards that, in turn, they make our landscape maintain its beauty and charm.

The sale of alcohol to minors under the age of 18 is prohibited. Responsible consumption is recommended.
Related Products