Tirajanas Malmsey Sweet White Wine Gran Canaria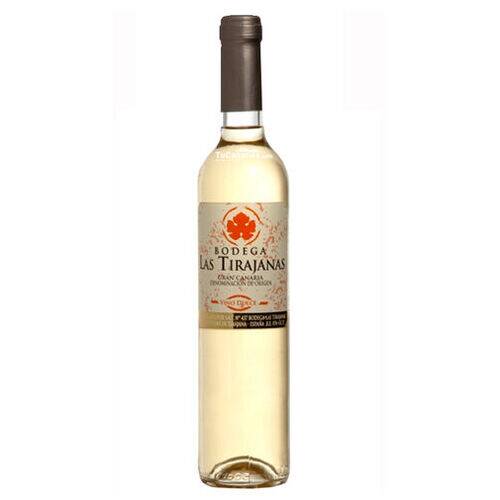 Click on the image to open the gallery;
Tirajanas Sweet Malmsey White Wine Gran Canaria
Type: Sweet Malmsey
Brand: Las Tirajanas
Producer: Bodegas Las Tirajanas
Bottle volume: 50 cl.
Denomination of origin: Gran Canaria
Alcoholic degree: 12º
Grape variety: Malvasía & Moscatel.
Tasting Notes: Made with Malvasía and Moscatel grape varieties. Straw yellow with golden rims, bright with lemon reflections of great elegance. Complex aroma, ripe stone fruit, compotes, citrus, honey and vanilla notes. Elegant and balanced mouth. Long, fresh and silky finish, which recreates its complex nose.
Elaboration: The overripe grapes undergo a cryomaceration and must cleaning, fermented at low temperature to preserve their varietal characteristics. The fermentation ends leaving residual sugars unfermented.
Las Tirajanas Winery Gran Canaria:
The vintage of this winery has a special characteristic, because it lasts three months. It begins in the southern area in mid-July and ends in the central and northern areas of the Island in October. Bodega Las Tirajanas was founded in the nineties of the last century by a group of viticulturists from the midlands of San Bartolomé de Tirajana who opted to unite their harvests and create a common wine. The project grew over the years and has been consolidated with the addition of new winegrowers from the south of the island and also from the center and north of Gran Canaria.
It is currently the largest winery on the Island, and positions the 'Las Tirajanas' brand in the local and international market, operating as a cooperative made up of 17 families with vineyards in different parts of the Island.
The winery produces 8 different wines that express the microclimates where the vineyards are located. The southern vineyards have sometimes very extreme winds, arid, hard, basaltic soils, formed during the last volcanic activities. The vineyards of the Medianías of the island are old, with traditional red grapes. These old vines are located above 1,000 m altitude, on steep slopes, with steep, very loose soils, and reap the benefits of the trade winds and the mists that favor the crops during their maturation.

The sale of alcohol to minors under the age of 18 is prohibited. Responsible consumption is recommended.
Related Products