Humboldt Sweet White Wine 1997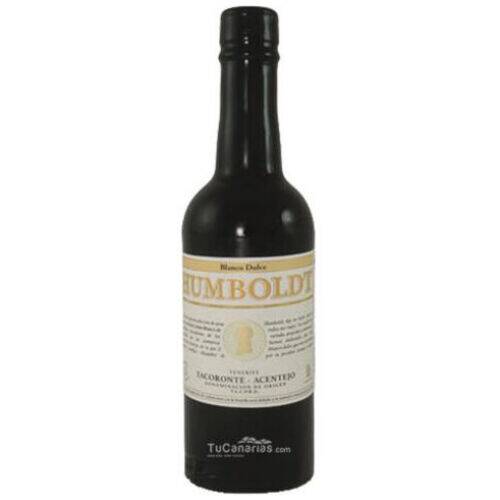 Click on the image to open the gallery;
Humboldt Sweet White Wine 1997
Type: Sweet White 1997 aged
Brand: Humboldt
Producer: Bodegas Insulares de Tenerife, s.a.
Bottle volume: 37.5 cl.
Alcoholic degree: 19,5º
Why Humboldt? Bodegas Insulares Tenerife, has bottled sweet wines under this brand made with grapes from the Tacoronte-Acentejo region that stand out for their uniqueness and quality, being a benchmark within Canarian wines. This wine is also inspired by the figure of the distinguished scientist Alejandro de Humboldt who was on the island of Tenerife and said he had not seen in all his travels "such a varied, attractive and harmonious picture".
Elaboration: It is a sweet liqueur wine. When it reaches a natural 8º, alcohol of wine origin is added, leaving a rest of the sugars unfermented. fermentation temperature 18ºC.
Grape Variety: 100% Listan Blanco from the Canary Islands.
Aging:
• Type of oak: American.
• Time in barrel: 180 months
• Time in bottle: 12 months.
Tasting Note: It has a yellow color with faint golden hues. Complex and exotic aromas are perceived on the nose, ripe fruit compote, quince, orange peel, honey and elegant notes of good wood. On the palate it is broad, unctuous, penetrating, reproducing the same sensations that are announced through the nose.
Awards:
Zarcillo Junta Castilla y León Awards: Zarcillo de Oro 2009, Zarcillo de Plata in 1995.
Agrocanarias Regional Contest: Gold Medal in 2017.
Brussels World Wine Competition: Silver Medal in 2017.
Regional Alhóndiga Contest: Alhóndiga de Plata in 2018.
Service Temperature: 11ºC.
Pairing: Cheeses, cold dishes, appetizers, desserts...
Bodegas Insulares of Tenerife Winery:
Bodegas Insulares de Tenerife is made up of wine growers from the Tacoronte-Acentejo region, located in the north of the island of Tenerife, and as of the 2005 harvest, also by the Icod de Los Vinos Comarcal Winery, further north in the region. Island. In this way, it has gone from 170 members in 1992, the date of its constitution, to 803 winegrowers, of which 704 belong to Bodega de Tacoronte and 99 to Bodega de Icod.
After rigorous maturation controls, the quality of the grapes in the field and the production processes in the cellar allow us to achieve excellent wines that have achieved great prestige both on the islands and abroad, deserving of hundreds of national and international awards and recognitions.
The work of Bodegas Insulares Tenerife, based on obtaining high-quality wines, the most renowned in the Canary Islands, can be considered the one that is having the most positive impact on a greater number of winegrowers, guaranteeing profitable grape prices , effectively supporting the maintenance of many family economies in the two counties and ultimately being a factor, perhaps the most important in the Canary Islands, linking winegrowers to the territory and therefore maintaining hundreds of hectares of vineyards that, in turn, they make our landscape maintain its beauty and charm.

The sale of alcohol to minors under the age of 18 is prohibited. Responsible consumption is recommended.
Related Products