Benijos Medium Ripened Red 500 g - 2011 World Bronze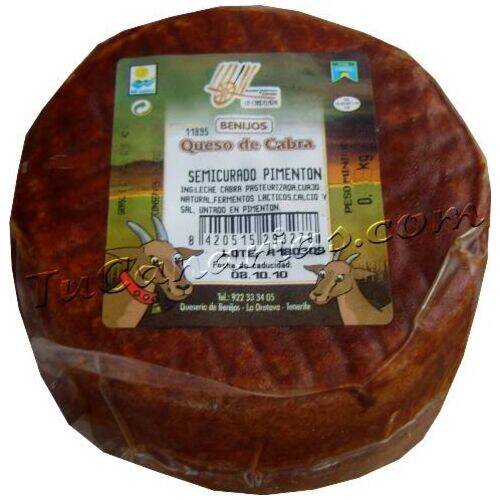 Click on the image to open the gallery;



Brand:

Quesos Benijos

Reference:

4629922349281109

Availability:

In Stock






Cheese Benijos Medium Paprika cover 500 g.
BRONZE World Cheese Adwards 2011.
Description: Originally from the island of Tenerife, made from pasteurized goats milk of different breeds and their crosses canary, starter cultures, rennet and salt. Coverage smoked.

Tasting Notes: describe an ivory yellow cheese, smelling semi-cured goat cheese at room temperature, creamy flavor, lactic, slightly acidulous tones and soft goat milk, pasta cutting compact, creamy white bark amarfilado.

PRIZES most representative:

• 2nd Regional Cheese Contest 2001 - Diploma in Natural Semicurado
• World Cheese Awards 2003, 2006 and 2008 - Silver Medal Semicurado Smoked Cheese.
• World Cheese Awards 2007 - Bronze Medal Smoked Cheese Semicurado.
• WORLD CHEESE AWARDS 2009 - Gold Medal Smoked Cheese Semicurado.
• WORLD CHEESE AWARDS 2011 - Gold & Bronze Medal Cheese Medium ripened

Shape: Cylindrical
Weight approx.: 500 to 400 g.
INGREDIENTS: Goats milk, rennet, natural milk enzymes, calcium and salt.
EXP: 12 months from the packaging.
VARIETY: Smoked Semicurado.
PACKAGING: Vacuum
Cheeses Tenerife Island is the largest surface of the Canary Islands. The contrast of its landscapes, from the arid badlands of the south to the green laurel forests of the north, teni-do has resulted in the adaptation of Tenerife goat breed her two ecotypes: north and most cheeses sur.La are marketed fresh goat milk, but also can be purchased matured. Predominate cheese smooth bark almost non-existent and white, whose pulp is pressed and cut little is white, with small eyes scattered throughout. The flavor is slightly acidic, soft and pleasant, with a great sensa-tion humedad.Se presents in a circle, with pieces ranging from 350 grams to 4 kilos and a diameter of between 10 and 30 inches
For more information access to www.QuesoCanarias.com
Related Products