Macaronesian Gin Premium White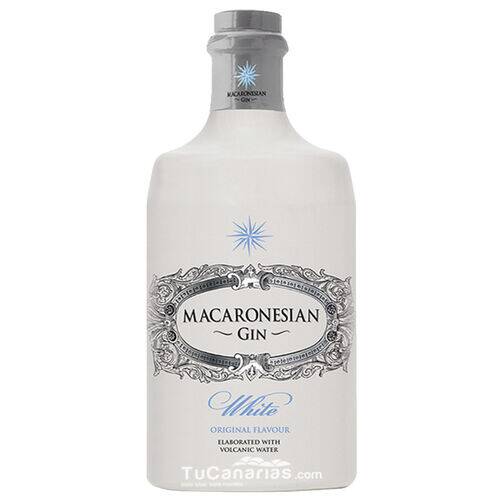 Click on the image to open the gallery;
Macaronesian White Gin Premium made in Canary Islands.
Elaborated with water from rain galleries with natural volcanic phytose and botanics from the Canary Islands
Type: Premium GIN
Brand: Macaronesian
Producer: Santa Cruz Destileries
Variety: Botanic White Gin
Volume: 0,7 L
Alcohol %: 40%
Bottle: Ceramic
Macaronesian White Gin is the first Canarian gin awarded at the International Wine & Spirit Competition in London, receiving the Silver Outstanding award for two consecutive years, and the bronze medal at the San Francisco World Spirit Competition.
The bottle: Macaronesian Gin is packaged in a classic and traditional ceramic bottle, composed of organic materials based on mud and organic dyes. The earth and clay, fundamental components baked at more than 1200 degrees, guarantee the non-filtration and purity of this Geneva. An exclusive synthetic cork stopper, seals and does not contaminate the product, as it does not stain or discolor.
The essence of gin: The botanists of the islands of the Macaronesia region are extracted, by hand, the botanists who, infused, They make up the base of this exquisite Geneva: juniper, cardamom, Angelica root, licorice, lemon peel, orange peel and other top quality botanicals. This infusion is the main secret of the blended master.
Infinite purity: Macaronesian Gin water is made with water of very high purity from Canary volcanic galleries. This water is filtered drop by drop through the volcanic rock, which is characterized by being very porous and rich in light minerals producing a moisturizing effect on the palate, which makes it very pleasant to mitigate the weight of alcohol and very appropriate for mixing with Premium tonics.
Artisan Elaboration: Made in the Canary Islands in small productions with an almost handmade process that gives rise to Macaronesian Gin. A very balanced Gin, with moderate alcoholic perception in the mouth, predominating botanical flavors and aromas.
The sale of alcohol to minors under the age of 18 is prohibited. Responsible consumption is recommended.
Related Products