Vega Norte Red Barrel Varietal X La Palma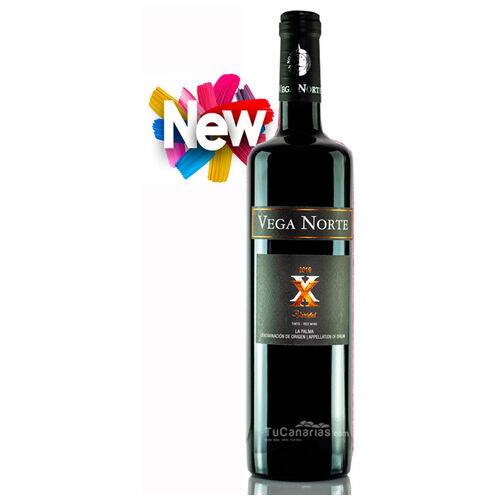 Click on the image to open the gallery;
Vega Norte Red Barrel Varietal X La Palma
Type: Red Barrel
Brand: Vega Norte
Producer: Bodegas Noroeste La Palma
Bottle volume: 75 cl.
Denomination of origin: Islas Canarias
Alcoholic degree: 14º
Grape variety: Castellana, Prieto & Vijariego
Wine made from red grape varietals.
Varietals: Local varietals grown on volcanic islands in the high mountains.
Elaboration: The process of elaboration of this wine begins with the selection of the best bunches collected manually. We separate the grape from the cluster and let it macerate for 20 days in a steel tank, with a controlled temperature and a reducing environment, avoiding the oxidation of the grape. It is the weight of the grape and gravity that extract the "must flower" that we will ferment on the lees for 6 months in lightly toasted French oak barrels.
Location: Tijarafe, Puntagorda and Garafía.
Vineyard altitude: Between 1,000 and 1,500 meters above sea level.
Pairing: Red Meats, Grills, Grill, Stew, Gofio, Big Game, Lamb, Foie.
Tasting notes: It has a beautiful cherry color, medium-high layer with a violet rim. On the nose it has a very complex medium-high intensity, with aromas reminiscent of blueberries, blackberries, prunes, cocoa, roasted beans, black pepper, liquorice, with mineral notes. In the mouth it has a dry entry with a wide journey. It is fresh, with high tannins and a bitter finish. In retronasal it reminds of minerality, cocoa and toasted notes. It is a balanced, meaty and chewy wine.
Bodegas Noroeste La Palma Wineries:
Vines that climb above the clouds between 1,000 and 1,500 meters with native varietals such as Listan Prieto, Albillo Listan Blanco, Negramoll, Muñeco or Almuñeco de Canarias
Bodegas Noroeste de la Isla de La Palma was founded on December 26, 1998. It is located in the Northwest region of La Palma, it was created to collect and process the grapes from this region of the island, and to sell the wine production of this zone. It currently has 240 members; the largest harvest was in 2009, collecting a total of 511,248 kilos of grapes. The wine is marketed under the "VEGA NORTE" brand, wines that are obtained from the different varietals that are grown in this area of ​​the island of La Palma, which is marked by high-mountain viticulture characterized by the altitude, mostly They exceed 1000 to 1500 meters of altitude, and by the great slopes.
It is worth noting the quality of the "Listán Prieto" variety within the red varieties and the "Albillo" within the white varieties. The white wines are made with "Listan Blanco" and "Albillo Criollo", the reds with "Negramoll", "Muñeco" or "Almuñeco" and "Listan Prieto" and the rosé with "Negramoll".

The sale of alcohol to minors under the age of 18 is prohibited. Responsible consumption is recommended.
Related Products